Metal Laser Cutting Services
Take advantage of laser technology precision and downstream efficiencies with outsourced metal laser cutting services.
Operating from our Sheffield headquarters since 1981, The Laser Cutting Co. offers a wealth of expertise and unrivalled lead times.
Outsourced metal laser cutting services are a proven solution to reduce downstream preparation and assembly requirements. A range of additional profiling services, completed during the laser cutting process, include flowdrill and tapping, 45° bevel edges, and countersinks of any size.
Boasting a suite of 10 laser cutting machines, The Laser Cutting Co. customers also benefit from rapid turnaround times on small, large and complex jobs. Furthermore, aggregated buying prices provide purchasing efficiency for customers outsourcing metal profiling requirements.
Tube Laser Cutting
Our laser tube cutting service includes all major tube and section profiles – including large tube laser cutting – with specialist profile capabilities accommodated with ease. Continuous investment ensures we can always offer our customers the broadest capabilities, so they remain at the forefront.
Take advantage of in-process bevel and countersink cutting and FlowDrill and tapping, available from The Laser Cutting Co. Receive your order fully weld prepped, including 45° chamfers in both inner and outer contours..
Sheet Metal Laser Cutting
Achieving a cutting tolerance of +-0.25mm, lasers are firmly established as the accurate cutting technology. Capable of achieving fine contours and intricate cuts in seconds, laser cutting is leading the way in manufacturing efficiency gains.
The unrivalled accuracy of laser cutting delivers the tightest possible nesting of parts for the most efficient use of materials. Parts are easy to remove from laser cut sheet metal, resulting in faster assembly.
The Laser Cutting Co. process sheet metal sizes up to 2000 x 4000mm and up to 50mm thick, depending on the material type. For larger sheet metal jobs, a Sheffield-based sister site is utilised for sheet sizes up to 6000mm x 2500mm.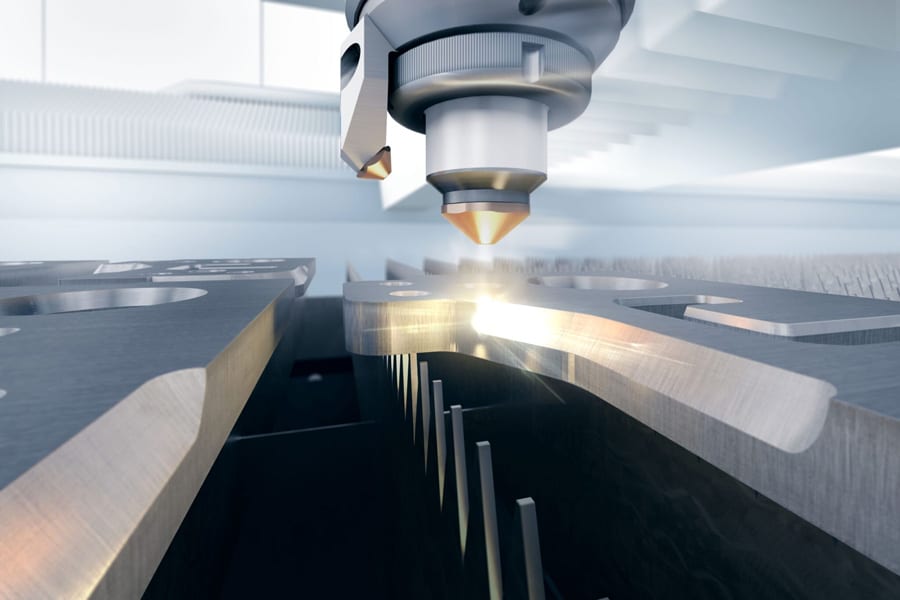 Bevel and Countersink
The pinnacle of laser cutting technology, bevel and countersink capabilities apply 45° chamfers on both outer and inner contours during the cutting process. This service eliminates the need for time-consuming weld preparation on materials up to 30mm thick.
Lasers can also add countersinks of any size during the cutting process, including screw connections. Automated application of bevels and countersinks provides customers with additional downstream efficiencies, freeing both worker and machine hours.
Through advances in laser technology, manufacturers are reaping the benefits of unrivalled weld seam quality, applied during the cutting process. Metal laser cutting services mean manufacturers can simply order in parts fully weld prepped and ready for assembly.
Open Section Cutting
Advanced steel section cutting capabilities support the evolution of structural design. The ability to make specialist cuts, such as a mitre cut, allow for material-efficient design. A high-quality laser cut finish massively reduces the need for weld preparation and avoids issues during construction.
The Laser Cutting Co. offer rapid turnaround times on both large and small volume orders of PFC channel, RSA angle, and universal beam cutting. Handling sections up to 8 metres in length with integrated cutting of complex and beveled contours up to 60°.
Open section cutting services include precision profiling of angles, v-shapes, joists and cleats. The ability to include perfectly coordinated, complex profiles within a design reduces costs and simplifies construction and assembly activities.
Flowdrill and Tapping
Integrated within the laser cutting process, flowdrill and tapping delivers downstream efficiency gains. An innovative approach to inserting connections into sheet and tube materials, flowdrilling uses a thermal friction drilling technqiue which requires no additional materials.
Flowdrilling creates a high-strength, uniform fixing without the risk of weak points. The resulting thread is several times longer than the material thickness, requiring no fastener. The completed fitting is finished with a smooth and flush plane surface.
Flowdrill and tapping is an additional in-process service from The Laser Cutting Co. designed to reduce downstream intervention and deliver consistently superior fitting quality. Production time and costs are reduced by over 50%.
What sets The Laser Cutting Co. apart from our competitors